Over 700 stars and guests came out for this year's The ONJ Gala 2016 put on every year by Austin Health. As the in-house events and audio-visual partner at Crown Palladium, Staging Connections' Melbourne team was tasked with making every guest feel extra special. An elegant, engaging and utterly spectacular affair was created, welcoming attendees including business leaders, philanthropists and fans to celebrate the achievements of the Olivia Newton-John Cancer Wellness & Supportive Care Programs.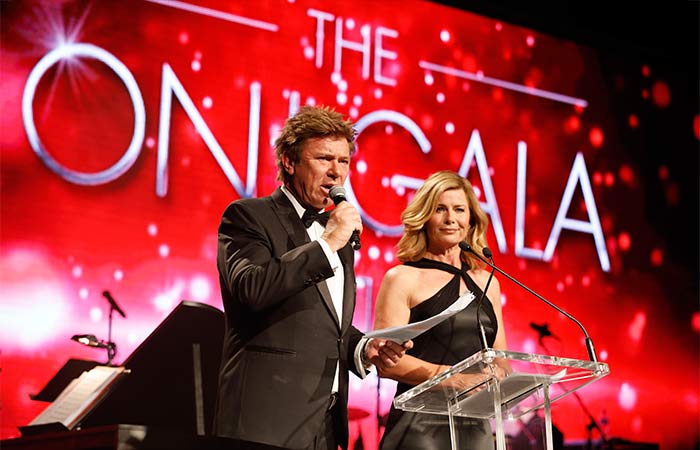 Pictured: Hosts for the evening, Richard Wilkins and Deborah Hutton.
Executing a Hollywood Glamour themed gala dinner
All styling, AV production, on-screen multimedia, performances and execution epitomised the theme of the evening, old school Hollywood glamour.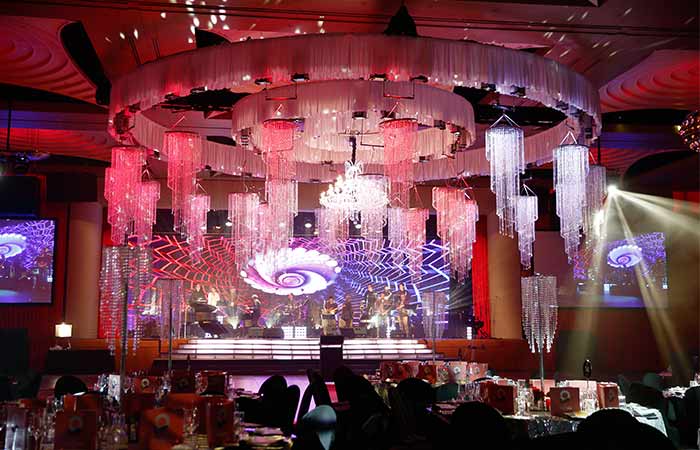 Pictured: Staging Connections delivers a 'Hollywood Glamour' themed gala dinner for The ONJ Gala.
From the moment guests entered the room through a beaded curtain entrance they were dazzled by the stunning atmosphere created. Shimmering red organza drapes surrounded the room creating a vibrant yet intimate feel and a three tiered truss chandelier (10m, 7m, 3m) that featured 30 smaller chandeliers with its own motor and individual lights wowed guests as a magical room centrepiece.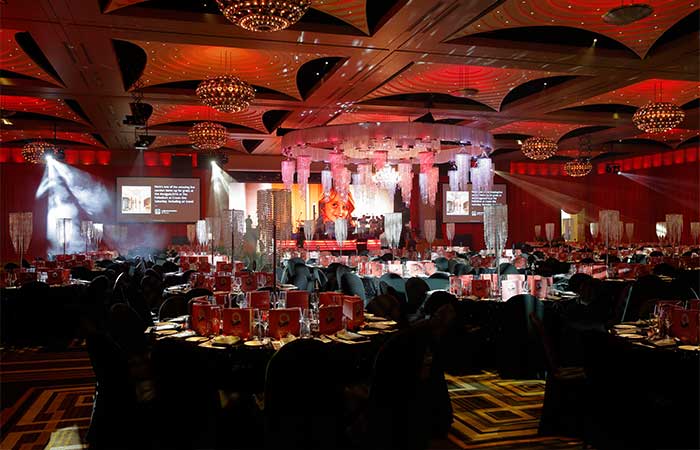 Pictured: A highlight of the gala dinner was the three tiered chandelier.
To support the high profile event, guests were entertained by a host of performances throughout the evening including Jimmy Barnes, Jon Stevens, Kinky Boots The Musical, Jason Heerah, Swing On This and star of the evening Olivia Newton-John.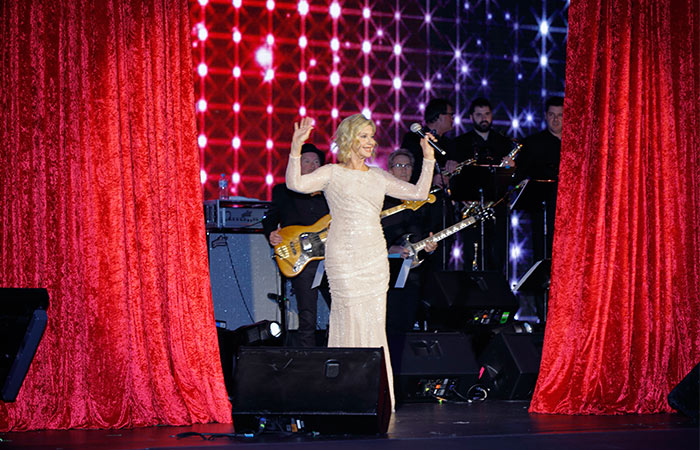 Pictured: Olivia Newton-John graced the stage in a stunning beaded gown.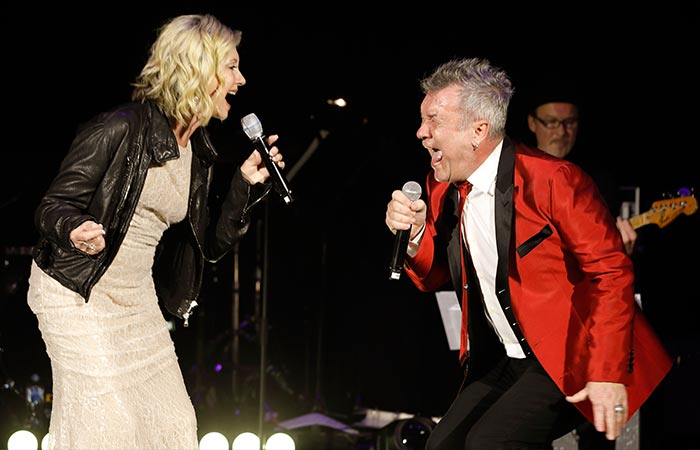 Pictured: Olivia Newton-John and Jimmy Barnes performed a rocking duet.
Staging Connections' multimedia team, led by Gary Moynihan, produced exclusive and eye-catching screen content designed specifically for each act. All multimedia content for the evening was shown on all six screens surrounding the room plus there was two camera's vision, audience response results and a screen with auto-cue.
The seven high profile acts plus a 12 piece-band and a 30-piece choir, all presented challenging requirements which were met with the professionalism that the Staging Connections team are renowned for at Crown.
Full stage lighting and multiple lighting sequences created the ideal environment for the live auctions, testimonials, performances and of course, party time!
Going that extra mile for gala dinner styling
Completing the decadent atmosphere, Staging Connections brought in extra special styling elements including Tivoli stairs with customised internal lighting, illuminated ONJ letters, red carpets, a 7m photo wall and custom centrepieces with rose petals on mirror bases.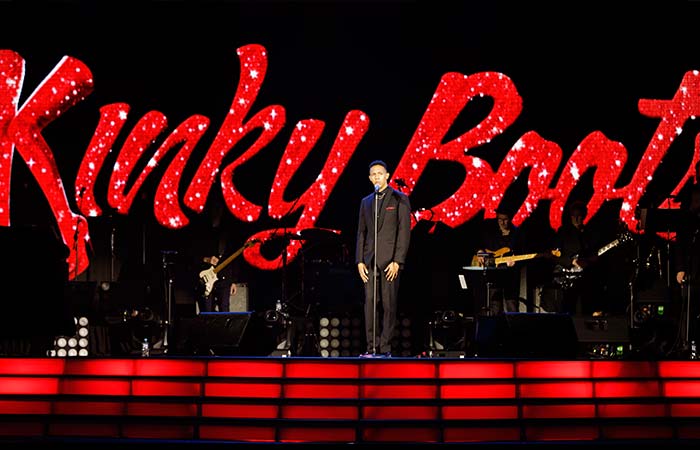 Pictured: Tivoli stairs with custom internal lighting to complement the stage acts, such as red for Kinky Boots.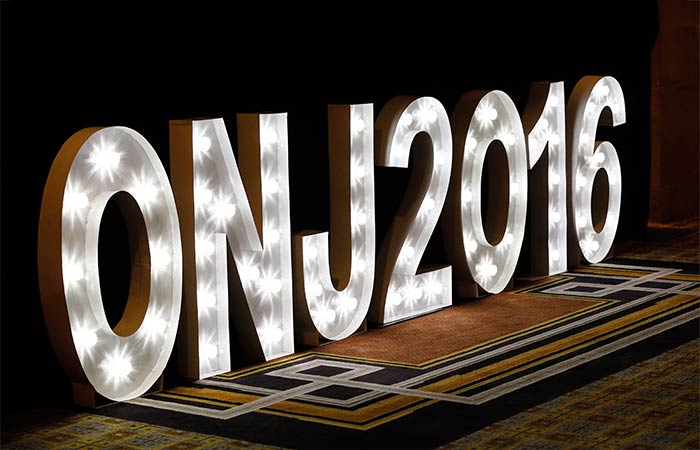 Pictured: Letter lights were used to promote the event's hashtag ONJ2016 and add to the Hollywood Glamour theme.
What did the client say?
This was the first time that Staging Connections was selected to work on this event and the team went above and beyond in accommodating all requests and delivering a spectacular and memorable event.
The Crown Palladium was truly transformed to create a glamorous atmosphere that delivered on the clients brief and supported the client in what they claim is the very best ONJ Gala to date.
---
"I would like to especially recognise the team for being such fantastic partners and an absolute pleasure to work with in the lead up to the event.  In addition, I would like to thank the team on the night, they were absolute professionals and a delight to work with, delivering an outstanding show. We appreciate everything that Staging have done to support the event – it has significantly helped us deliver the very best ONJ Gala to date."
Amy Coote, Head of Partnerships, Austin Health
---
Flawless gala dinner production
We have been executing spectacular gala dinners for over 30 years. Whether you want to celebrate achievements, fundraise or just host a fanatstic fun-filled evening we have the people, the ideas and the tech tools to make it happen. That's why renowned brands like Amway, ANZ,  Auto & General and Amway chose to partner with Staging Connections to deliver their gala dinner. With all eyes on your stage for the entire event, it's important you give it the attention it deserves. Find out more about our range of gala dinner event services or get in touch with us to see how we can work together for your event. CALL 1800 209 099 or Send an Enquiry
Photo Credit: Stu Morley