Working collaboratively with cievents, a valued long-term client of Encore, the team delivered the visual and creative design for the dazzling Welcome Event for the 2016 Australian Tourism Exchange at the Gold Coast Event Centre on Monday 16 May 2016.
As Australia's largest annual travel and tourism business-to-business event, ATE brought together Australian tourism businesses in a forum to promote their products directly to tourism wholesalers and retailers from around the world.
Using AV, multimedia and styling to bring to life the Australiana event theme
To create the memorable Welcome Event theme, which brought to life Australia's aquatic and coastal experiences, the focus of the latest global campaign by Tourism Australia, Encore provided audio visual, multimedia content and styling. Creative lighting was used throughout the venue, in conjunction with fleur panelling on the ceiling, to further transform the space with a wave design that immersed guests in the underwater theme. A vibrant beach atmosphere was designed featuring lots of sand as well as a DJ hut, LED screen and beach furniture, in collaboration with other service providers such as Coastal Productions who custom built the food stations and ELS.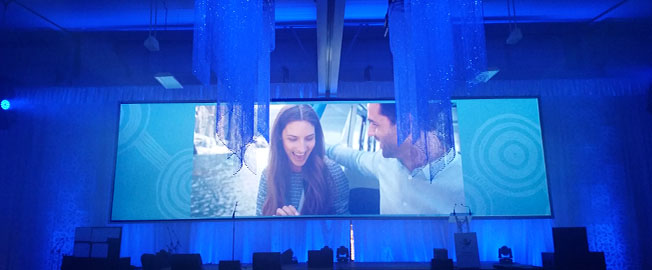 Guests were greeted by Tourism Australia chief executive, John O'Sullivan and the Minister for Trade and Investment The Hon. Steven Ciobo as well as the main ambassador, much to the delight of attendees, Chris Hemsworth. Short speeches were followed by live music as well as time for networking and for guests to enjoy delicious Queensland cuisine.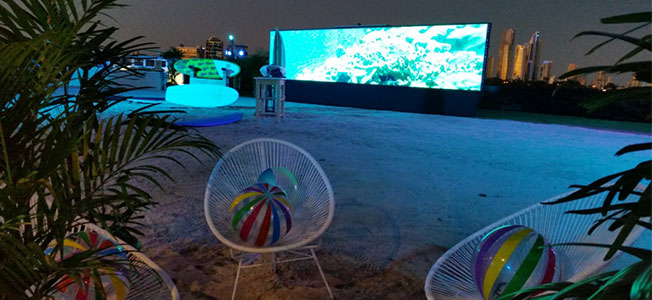 The Technical Director worked with cievents producers to coordinate the event and manage the camera direction for mobile cameramen, including live interviews with celebrity chef Luke Mangan. The interview vision and nautical backdrop vision of sea and sun was distributed throughout the evening to 12 LCD monitors across the venue, as well as LED entry screens, the beach area LED truck and the main stage 40m x 10m blend screen which was powered by two 18k projectors.
Significant rigging was required to create two rectangular truss grids of 20m x 10m for lighting and to support the creative fleur panels for the wave design. Additional trussing was rigged throughout the ceiling to support 80 lighting fixtures and a combination of FX, LED floods and statics.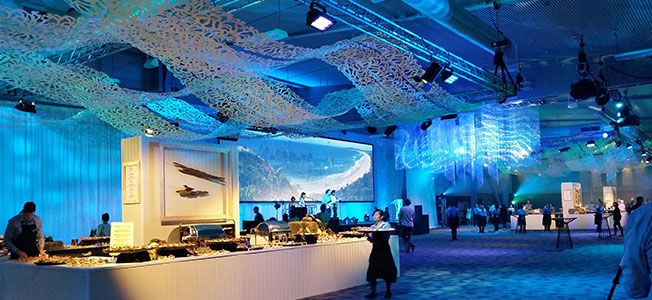 The immersive theme showcased Australia's aquatic and coastal experiences in the creative design, multimedia and styling of the event. Innovative audio visual and quality sound ensured the key objective of enabling all guests to network was achieved, and the event was deemed a memorable success. 
The team were very proud to have helped deliver such a high-profile industry event. It was a great opportunity to showcase our range of world-class event services. After months of preparation, the team were thrilled with how it all came together on the night, a truly fantastic
result for the team and for the Australian Tourism Exchange.
Partner with the leading AV team for your next corporate event
Our South East Queensland team includes comprises some of the most talented design and styling professionals in the industry, offering event production and management services across 13 key venues.  If you're looking to host your next corporate event in Brisbane, the Gold Coast or Sunshine Coast, then we're the  experienced  events team  you  can rely on. We proudly offer Australia's largest range of event services across  audio, lighting, staging, vision and extending to styling, multimedia and digital event solutions like webcasting, live polling and event social media. Get in touch with us today or call 1800 209 099 to speak with one of our event experts.