Encore delivered the Annual General Meeting (AGM) for Scentre Group in early May 2016, as Mr Frank Lowy (AC) performed his final duties as Chairman of the company that he began 57 years ago, in front of 250 attendees at Centennial Hall, Sydney Town Hall.
Mr Lowy's farewell received a standing ovation from the audience, as the Staging Connections lighting team doused the enormous event space in the Scentre Group's brand colours.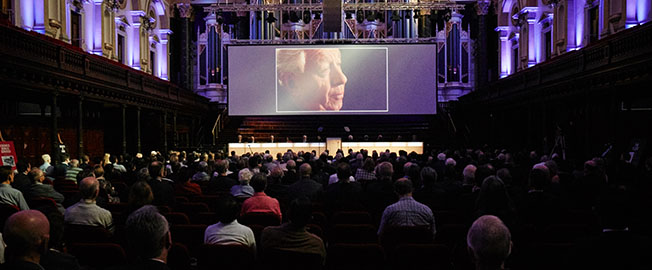 Media, shareholders and Scentre Group staff attended the formal AGM which featured audio visual and lighting services to professionally highlight and support the communication from board members on stage to the audience. A themed board table with individual visual displays for each of the 11 board members and a mega screen set above the stage ensured clear communication throughout proceedings.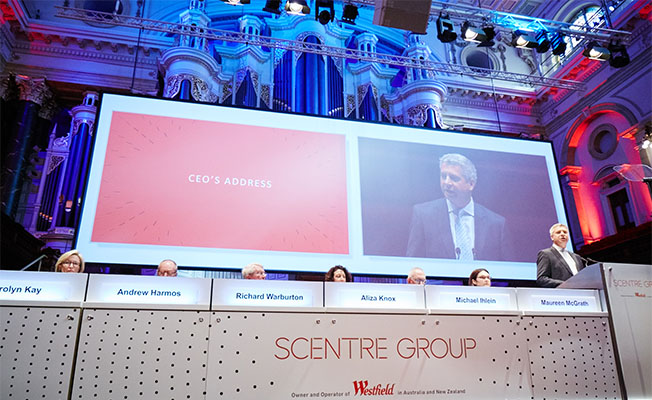 Communicating widely with shareholders across the world, the entire event was live webcast by Staging Connections and will be available for Scentre Group shareholders on demand for many months.
The Event Director leading the Encore team commented on the professionalism and technical expertise required by AGMs and other events of this magnitude.
"It was an absolute pleasure to deliver this engaging production. AGMs require absolute technical know-how and there is no room for error, this is where our experience in delivering these sorts of events comes into play. Our team delivered this AGM, highlighting a true hero of the corporate world in style and with the utmost professionalism. We are proud that this was another successful AGM delivered for the Scentre Group, and look forward to delivering many more,"
Partner with Encore for your Annual General Meeting
Encore has been the name behind some of the largest Annual General Meetings held in Australia and New Zealand for over 30 years. With Australia's largest range of audio visual equipment and event services, you can trust Staging Connections to deliver a truly engaging event experience for your shareholders. Speak to a Staging Connections representative today to discuss your AGM needs by calling 1800 209 099 or by sending an online enquiry.
Recommended: Visit our Event Insights page to download the latest whitepaper and discover 4 key elements every event planner should consider adopting if they want to maximise attendance at the Annual General Meeting, year after year.
Join the AGM Revolution