Encore delivered an exciting fire and ice theme to the delight of 700 guests at the Greencross Limited Annual Awards Dinner at the National Convention Centre, Canberra in late 2015.
The Exhibition Hall was radically transformed from a breakfast/lunch space into the impressive fire and ice theme for guests of Australasia's largest integrated pet care company, to network with company VIPs, connect with suppliers and celebrate the outstanding achievements of the company.
Theresa Chiller, Projects Coordinator, The Pet Foundation Administrator at Greencross Limited was thrilled with the technically superior result the team produced.
"Our guests had a fabulous time. We wanted to create an atmosphere fit for the occasion and Staging Connections combination of set design, lighting, audio and special effects certainly came together to give an ultimate wow factor for our audience.
"As two different conferences were merged into this one event, our guests had extra high expectations of what this gala event would deliver. When the doors opened we were already convinced that we'd exceeded expectations – guests stood at the doors, too busy taking photos of the amazing visual feast within, to even walk inside!" said Ms Chiller.
Our talented styling team who created the dramatic fire and ice theme using a combination of styling, design and audio visual elements to truly transform the Exhibition Hall.

The aim was to design an environment that immersed the guests in a true experience, engaging all their senses and giving them the opportunity to celebrate in a memorable atmosphere.
The team designed a large digital backdrop using our modular panels that created a 9.5m x 5.5m screen which we mapped using a high performance Christie 18k projector, on to which we projected vibrant animated content of fire and ice. This really brought the Exhibition Hall to life and created a central focus for all other styling elements to be crafted around.
Over 30 assorted moving head lights and 40 extremely bright quad coloured LEDs were used to achieve the dramatic distinction between the opposing forces of fire and ice. In true celebratory style, projections of colourful fireworks played as award winners were announced and then when it was time to party, projections of disco balls inspired everyone to get out on the dance floor," said Ms Webb.
Three different centrepieces were used to enhance the visually stunning theme including tall white willow branches surrounded by acrylic ice; mirrored mosaic vessels clustered at different levels with accompanying ice, snowflakes and tea lights; and beaten nickel bowls glowed from the interior orange LED pillar candles placed inside.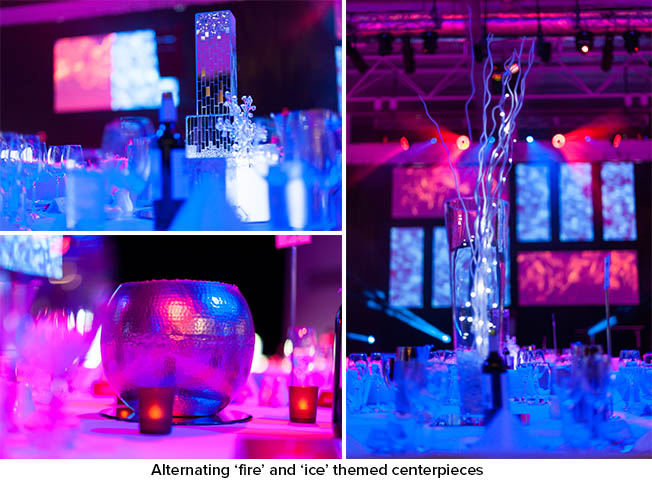 With the objective of delivering a big celebration, dramatic audio was paramount to the events resounding success. Twelve Meyer line array elements were complimented by four 700HP subwoofers all controlled by the Meyer Galileo processing and Yamaha M7 mixing desk.

White table linens created a clean canvas for the dramatic lighting effects and visuals around the hall and a custom Perspex lectern was internally lit to draw the crowd's attention. 
We offer Australia's largest range of event services across audio vision, lighting, staging, styling and digital services. When you partner with Staging Connections you're partnering with the best AV technicians and event professionals in the market.
Send us an enquiry or call 1800 209 099 to speak to an event specialist.