Unlike indoor events, outdoor events don't have the luxuries of Wi-Fi or air-conditioning and in 2017 these aren't luxuries so-to-speak, they're expectations. Not to mention, outdoor events tend to attract larger crowds from varied backgrounds and ages. The grounds don't offer adequate power supply, shelter, disability access or emergency PA systems. Therefore, proper thought and event planning mastery is needed in order to make your next outdoor event better than the previous.
Here are 8 foolproof ideas for planning a spectacular outdoor event that will surprise, delight and cater to all your attendees.
1. Plan to engage the spectators at your outdoor event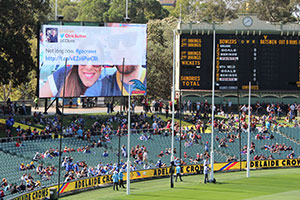 Engagement is very important if you want your audience to be captivated at an outdoor event. Event ideas are aplenty when it comes to engaging the spectators. You might want to think of gamification, i.e. running competitions through various ways such as social media, on-ground activations or via an event app. But do not stop there. Always remember to incentivise your audience to participate in them by offering some form of rewards. Second, be proactive in using social media. With the widespread use of social media, this is an effective way to engage attendees. It is very easy to use a event social media platform to showcase the posts on screens around the venue after choosing an appropriate hashtag for the event. Spectator spotlights like Kiss Cam and audio messages are yet another great way to infuse the fun element into your event. Finally, a simple outdoor event idea is to make full use of the space on entry and exit. This means that you should ensure these places are filled with engaging activities including music, competitions and promotions.
2. Enhance your outdoor event's branding – before, during, after the event.
Ensure that all touch points, both traditional and new, have been appropriately branded. Outdoor event planning starts before the event: check that all communications, advertising, tone of voice and online community building are properly put in place. During the event, your event services provider should provide digital signage for way-finding and important messages. Other essential items to have include lanyards, tickets, around ground signage and strings etc. Post event, the planning process continues: you might want to consider wrap-up communications, and what touch points you want to use to re-engage attendees and prolong the life of the event. Alternatively, you can begin the pre-communications and marketing for the next event. A great event idea here is to use a hashtag on all signage and branding for enhanced engagement consistent with our first idea. In addition, if you would like, we can also incorporate food trucks or food & beverage outlets in the style, theme or genre of the event by tying in the branding and key messages into these facilities.
 3. Give every attendee the same event experience
Typically outdoor events comprise of smaller areas or stages with lots of schedule conflicting entertainment acts and presentations. A smart event planner thinks about the experience of each individual attendee and caters to it. For a start, use an AV provider who can meet the demand – cover all audio & vision equipment to ensure adequate coverage of the action. Distribute screens, audio, vision playback around the grounds so all the action can be seen at any location. Given that this is an outdoor event, live coverage of all the action across the event grounds keeps the atmosphere and energy levels high. Additionally, especially if you intend to use social media as a form of engagement, ensure appropriate wi-fi coverage in the area. Lastly, if you are inviting many families, think about creating family-friendly zones. One way of doing so is by putting LED screens so families can watch the action even if not nearby. Another event idea is to put up interactive exhibits to keep children busy during the event and/or create a safe zone for families to still interact whilst away from alcohol. The possibilities are many.
 4. Use AV and special effects to give new experiences each year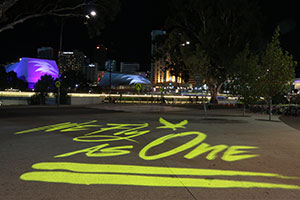 You want to keep making each year's outdoor event better than the previous one last year. But you are often constrained by a tight budget. No worries. A clever way to surprise and delight guests is by using different audio visual solutions and techniques to create new experiences. Whether you're bringing objects to life with projection mapping or casting stunning imagery around the grounds and surrounds, there are endless ways to make each year an entirely different and 'new' event. You can always count on our experience to offer you innovative event ideas.
5. Allow for all weather conditions
Hosting an outdoor event requires you to plan for all weather conditions. Hot weather would require misting tents, shelters, drinking water and shade. Wet weather, on the other hand, calls for electrical safety, stage roof for any entertainment, and ample shelter for your guests. Windy weather presents its own share of problems. All tents/marquees should have appropriate ballast, signage should be wind-rated, structures should be wind and weather rated and there should be emergency plans in place regarding when to dismantle or cancel the event. Having a site wide audio system for emergency messages and communication is crucial. If an outdoor event finishes after sunset, be sure to have area lighting for carparks, exits and surround areas. Finally, consider adding toilet facilities and access for disabled patrons.
6. Build an inviting website
Among the simplest yet effective of event ideas is to build an inviting website. The website is the main touchpoint where people will get to know about your outdoor event, therefore make it as exciting and engaging as possible. An inviting user experience here can set the tone for the event and dictate how people will respond to it. Be sure to keep refreshing and updated content that is of interest to your audience to keep them coming back. Also, ensure that the website is mobile-friendly so people can easily interact with it before and during the event.
7. Engage new audiences with a live stream or webcast
For a unique event idea, incorporate a live stream or webcast into your whizbang website. It is a simple way to engage new attendees or those who simply couldn't make it this year. In addition, make sure you save a recording and you have a copy of the event. These come in handy for use in marketing, or future communications. For large outdoor events which come with a host of information and documents, we recommend opting for a webcast over a simple live stream.  With webcasting you essentially have access to a platform that contains a live stream of your video, on a hosted site, with the options for downloadable documents, accompanying presentation slides, live chat, social media and audience polling integrations. It's all the bells and whistles for those who want to replicate the outdoor event experience, online.
8. Take advantage of a simple event app
Outdoor event planning often surfaces logistical issues. Since the event is outdoors, the information desk, maps, schedules etc. are going to be sparse. Finding the way-finding map itself may even require a map. Announcements and updates are even harder to communicate. A brilliant event idea is to use a simple event app so you can communicate with your attendees instantly. Harness the power of convenience of sharing and providing information for all parties in the palm of your hand. Moreover, you get to collect data of your attendees which you can use to better organise the outdoor event. Whilst some event apps available come at a cost, Encore offers a free event app packed with 10 helpful features to help the busy event planner communicate and distribute content to many attendees instantly.
Partner with an outdoor event specialist
Sporting events, outdoor concerts and festivals, exhibitions, conferences, fundraisers and community events – you name it, we've done it. Each year Encore is involved with delivering some of the biggest outdoor events to hit our shores. Our experience and large range of event services and AV equipment makes us the preferred event services provider for outdoor events. Plus you'll find us in every corner of Australia, in New Zealand and even Fiji! Events start with a conversation, so start your outdoor event planning today by getting in touch and one of our event experts will get right back.