Twitter is ever growing in popularity in both corporate and social circles. It is a simple, free tool that enables greater engagement with your audience and extends your event space to the online world.
Most people today are familiar with Twitter, but expect some the less tech-savvy amongst your guests and always be on hand as you will have to explain basic tweeting and character limitations and of course the relevant social handles for your event. If everyone uses the platform during your event you will find that they are more engaged; absorbing and analysing your content in real time. Not to mention, it is also a nice and simple way to make your webcast attendees feel involved in the conversation and the event.
1. Advertise your event hashtag
The most important part of your event Twitter feed is an event hashtag. Hashtag's are a tool for aggregating and archiving metadata and when used by every twitter user it will organise your event discussion into a single tag so you can follow the conversation. Therefore it is essential that everyone is using the right hashtag. Make sure to advertise it on the event invite and post it on Twitter several times prior to the event. Hashtags work over Instagram, Facebook and Google+ so spread the word over every possible platform for maximum exposure.
During Your Event
In addition to advertising the hashtag prior to the event, you must make sure it is clearly displayed throughout your event. If you hand out flyers ensure that it is clearly marked near your brand logo and if you have presentations, make sure it is visible on every slide. Your initial presenter should encourage your guests with incentives to use it. Your event hashtag not only organises all of your guests comments and questions but invites people keeping up with the event online to join the conversation and engage with your brand. If you have a large event with lots of tweets your hashtag could end up 'trending' exposing your brand to a much larger audience.
2. Turn your event into a contest on Twitter
Instead of just telling your guests to tweet, turn it into a contest. The respective prize of the competition is up to you. It does not need to be big, but will get your audience more engaged and invite an element of play to your event. Examples of good Twitter hashtag competitions include most creative answer to a question, best event photo (this can be hosted through Twitter and Instagram) or even a simple lottery including everyone who uses the hashtag, which inspires even your timid guests to join in the tweeting.
3. Grow your social media influence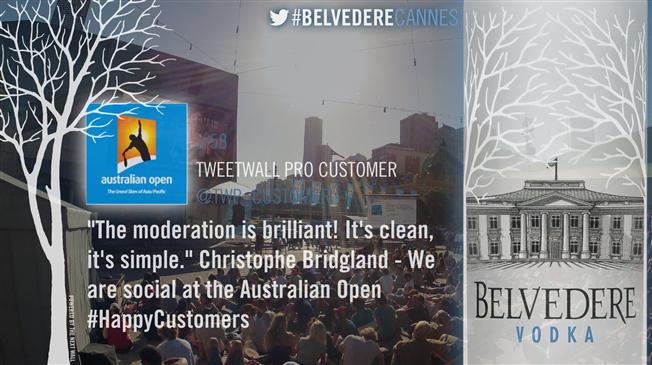 Good integration of social media during an event enhances the experience for the attendees in the room and can capture the attention of your entire market. A lively event Twitter feed displayed on screens in the venue encourages audience participation, but it also gives those who didn't attend a tantalising glimpse of what they're missing out on. Encore Event Technologies has a great software platform called Event Feed that allows you to capture your in room and virtual audiences' tweets and Instagram posts through a dedicated hashtag and send them live to screen on a template of choice. Posts can be scrolling as audiences comment on ideas or presenters can ask questions igniting feedback and conversation.
Your event Twitter feed is an opportunity to develop a stronger connection with your guests. It is advisable to have a moderator working on the Twitter feed. A moderator will post tweets during the event; asking questions, answering questions, acknowledging tweets, posting quotes from the speakers and re-tweeting insightful guest tweets. They will also ensure the Twitter feed maintains it's focus by filtering out offensive and off-topic material and help grow your brand by following all people who use the event hashtag.
Follow your guests on Twitter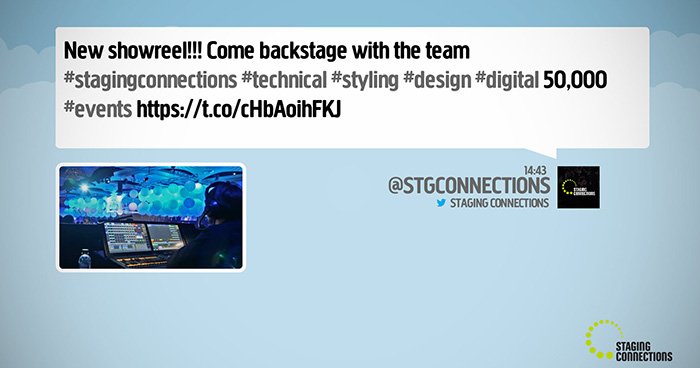 Following your guests increases the likelihood of them following you back so you can continue to engage with them after they have left.
4. Use Twitter to collect your audiences questions during your event
Twitter can assist your Q&A segment greatly. A good way of separating questions from statements is to create another hashtag for questions. For example if your event hashtag is #twitterevent then make your question hashtag #qtwitterevent. You can have these scroll through your Twitter feed in real time and then have your moderator collect them and organise them for question time, cutting out some of the inevitable question overlap and giving voice to a larger cross-section of your audience.
5. Organise your Event's best tweets in Storify
After your event you should aggregate the best tweets, photos and videos organized by your hashtag and place them in a Storify to preserve all the great content created by your guests, speakers and moderator. Storify collects content from all social media platforms like Twitter, Facebook, Instagram, Google+, Youtube and Soundcloud so if it serves your brand you can find it and archive it together. You can then send this Storify in email blasts to all of your guests and users of the hashtag in the following weeks to keep your event working for you.
Make Twitter Work For You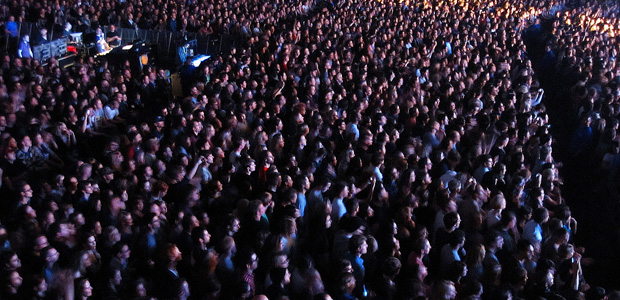 Twitter is such a powerful tool because it gives everyone an equal voice. Intellectual and emotional engagement into your real time event is very powerful and as with all powerful tools it requires some moderation and guidance. Use Twitter wisely and it will immensely increase the success of your audio visual event. At Encore Event Technologies we have extensive experience using Twitter for events and utilise our own Event Feed software.
Want to know more? Get in touch today.
Want to stay up to date with industry trends? Browse our range of downloadable Event Insights papers