Each week we aim to demystify the world of audio visual equipment and event services speak. In this week's Techie Tuesday we take a look at the key event communication tool 'In Ears'. You have most likely seen performers on stage using them to hear their instruments or TV presenters listening for cues from backstage directors. They are also used in corporate events as an effective on stage tool to help enhance the delivery for on stage talent, giving them the confidence to deliver a great performance.
Audio Visual Discipline: Audio
Audio Visual Event Category: AV Equipment
AV Jargon: In Ear's, Ear Piece
What are 'In Ears'
In-ear Monitors are a small and discrete headphone set, that allows onstage talent to isolate ambient noise and listen directly to a personal audio mix. The headphones are connected to a small belt pack receiver, providing the talent with freedom to move without cables. The audio signal is broadcast from an transmitter, positioned either at the operators table or side of stage.
Unlike a talkback/comms system which allows for two way communications between event crew, in-ear monitors allow for a split of any audio signal(s) required to be heard by the onstage talent, enabling them to action cue or hear clearly.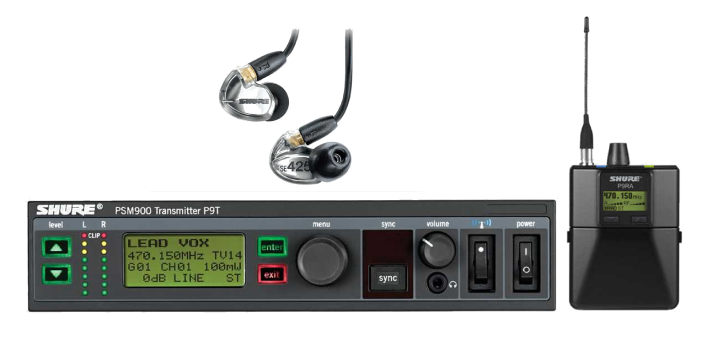 Source: Shure | PSM900
What events are 'In Ears' used on?
Events such as award ceremonies or television broadcasts where there is a master of ceremonies or an on camera presenter, use in-ears to discreetly relay critical event cues such as timing information, when to throw to a video, and when to intro a new topic. It takes a very experienced and agile presenter to be able to talk to a live audience whilst also listening to event cues from directors.
Events such as live musical performances, where there is a need for musicians to hear their instruments or vocals, use in-ears to deliver a mix of instruments and vocals allowing the musicians to keep in time, and on pitch. The use of in-ears for musical performances keeps the volume level down on stage, and gives the performer a consistent sound reference anywhere they move.
What is needed for In Ear Monitors to work as part of you overall Audio Visual events solution?
A few specific items are required for in ear monitors to work effectively:
Transmitter: the personal audio signal needs to be broadcast so as to be picked up by the belt pack receiver.
Receiver: the broadcast audio signal needs to be received so as the talent
Receiver: the broadcast audio signal needs to be received so as the talent can listen to the personal audio signal.
Mixing Desk: a mixing desk is required to split the signal(s) and mix the signals being sent to the in-ear monitors.
Audio Tech: a trusted audio tech is required to ensure that the talent receives a good mix and does not hear any unexpected sounds or cues
Related Blogs
Techie Tuesday: Talk Back Systems
Optimise your event communication with design and production
Techie Tuesday: What is a Graphic Equaliser and why do I need one?