See how we used custom table projection mapping to create an extraordinary dining experience for our first Experience Encore event; delivered exciting new concepts for gala dinners and awards nights; and even hosted a four-day conference in the Outback!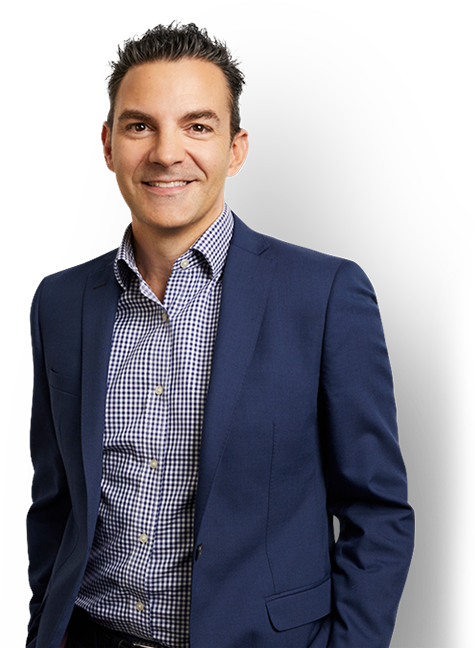 Welcome to our final edition of AMP for 2018!
AMP Newsletter is our chance to show you the creative and technical work that's been happening across our regions to inspire your next events.
In this edition we highlight our first and hugely successful Experience Encore event, some creative new awards night concepts, as well as a fantastic example of how to integrate your message throughout your event.
Michael Magafa | National Sales Director

Below you'll see a snapshot of some the amazing work our teams produce to help inspire your next events! If you have any questions about the events or our solution please get in touch with me.

---
QUEENSLAND

Queensland Hotels Association Awards for Excellence
Venue: Brisbane Convention and Exhibition Centre
Encore were tasked with creating the atmosphere of a modern summer sun-soaked indoor beer garden for the annual Queensland Hotels Association (QHA) Awards for Excellence Gala Presentation. Hosted on 8 October 2018 at the Brisbane Convention & Exhibition Centre, Encore delivered a total event production solution to immerse the 1,100 guests.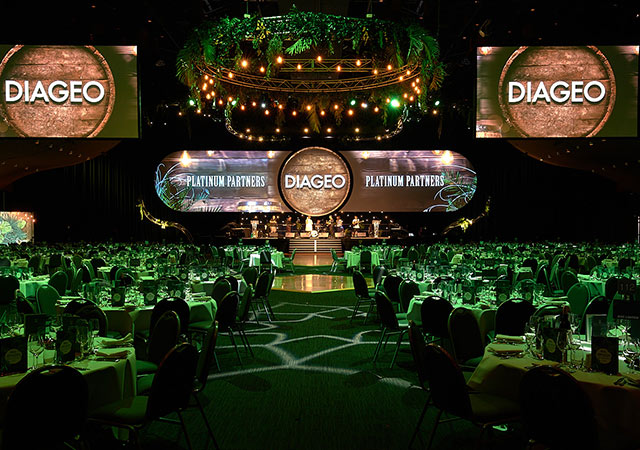 As the focal point for the awards, Encore created a unique custom stage set which included a 5.7m circular projection screen along with two large rounded screens either side. The full projection surface totalled 26.5m wide x 5.7m high, plus 6m delay screens positioned in the back half of the room for coverage.
Two winding, foliage trusses framed either side of the stage while oversized curved circular trusses covered with foliage and beautiful festoon lighting, hung from the ceiling over the stage and dance floor.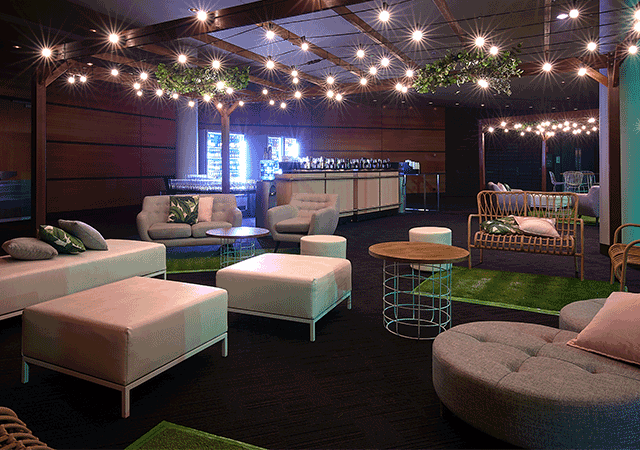 Along with incorporating creative and production services, Encore also provided Event Feed social media integration. The skin design of the social media feed was also designed to complement the overall theme to complete the experience.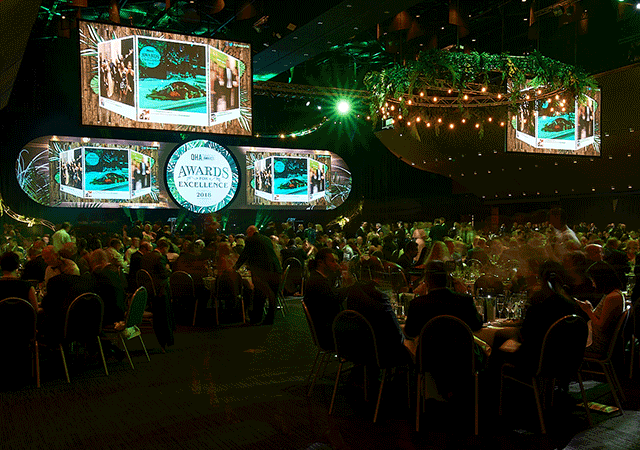 Kelly-Anne Mott, Events and Partnerships Officer from Queensland Hotels Association was thrilled with Encore's work for the impressive awards dinner production.
 "We are absolutely delighted with how spectacular the event was. Encore once again delivered, from the custom circular screen and stage set, to the stunning furniture and styling, to the content and digital services," said Ms Mott.
---
VICTORIA
Consult Australia Awards Night
Venue: Park Hyatt Melbourne

Guests were invited to a night at the circus for this year's Consult Australia Awards for Excellence at Park Hyatt Melbourne. Held on 10 October 2018, Encore created a vintage circus experience for the 250 guests. 
Styling was a key component to achieving the look, with the hero a ceiling installation using red and white fanned drapery to create the "under the Big Top" effect. The ceiling was lit in reds, whites and ambers to create additional mood and excitement. Beautiful red and white velvet drapes also lined the venue to simulate tent walls.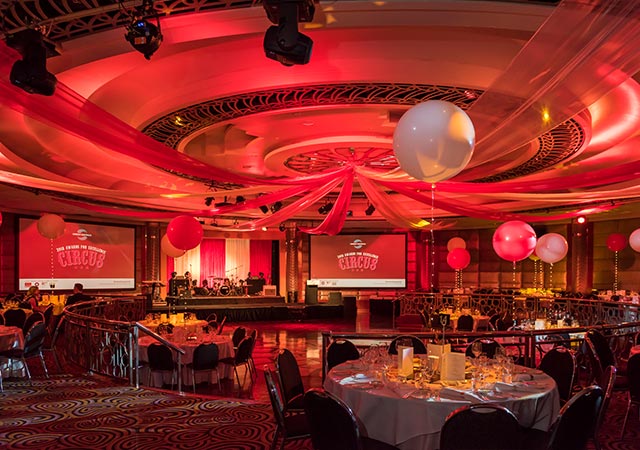 Circus themed table centrepieces were designed using popcorn bucket bases with a string of fairy lights emerging from the top to meet a large red or white helium balloon. The centrepieces were individually lit from the ceiling to add additional colour and focus. 
To complete the Circus atmosphere, moving lights were hung from the ceiling to search across the crowd to simulate the "Roll up, Roll up" introduction of the Circus Ringmaster and acted like a crowd spotlight throughout the course of the evening.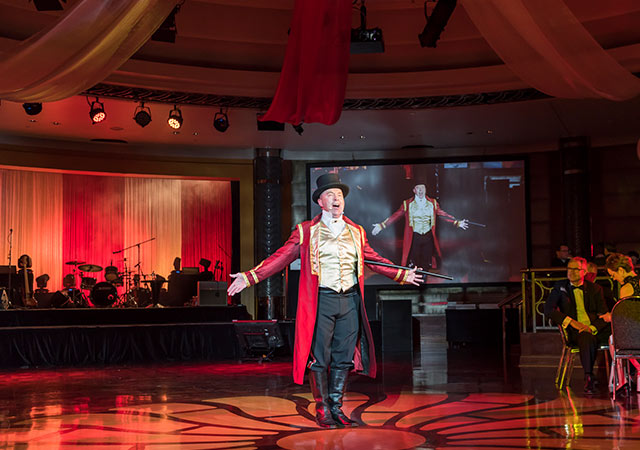 Mark Rock, Marketing Manager at Consult Australia commented,
'We were very pleased with how this year's Annual Awards for Excellence went. The Circus theming was extremely striking and the feedback on both the look and feel of the room was overwhelmingly positive." 
The event was truly a carnival for the senses creating an unforgettable experience for all.
---
NEW SOUTH WALES

Experience Encore
Venue: Cell Block Theatre, National Art School Sydney
This year Encore hosted their first "Experience Encore" event for corporate clients, treating them to an intimate evening of great food, wine and entertainment at the National Art School in Sydney's Darlinghurst.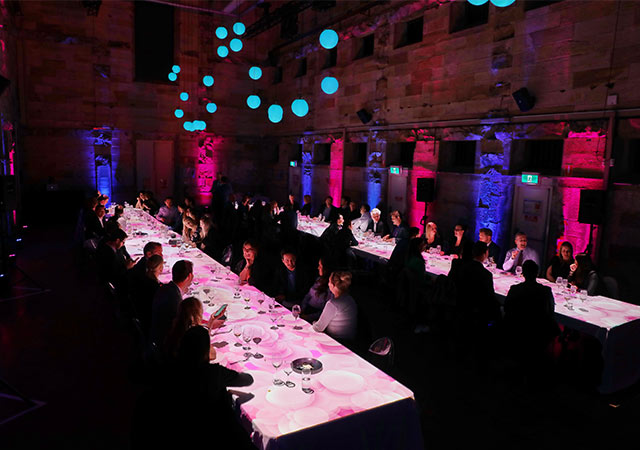 Upon arrival, guests met in the courtyard of a brilliant up-lit Cell Block Theatre for cocktails and canapés before taking their seats. A spectacular table projection sequence set the scene, choreographed perfectly with the opening track. 
Popular culinary personality, TV host and author Justine Schofield, designed the amazing menu inspiring Encore's production services team to develop a dreamlike sensory experience.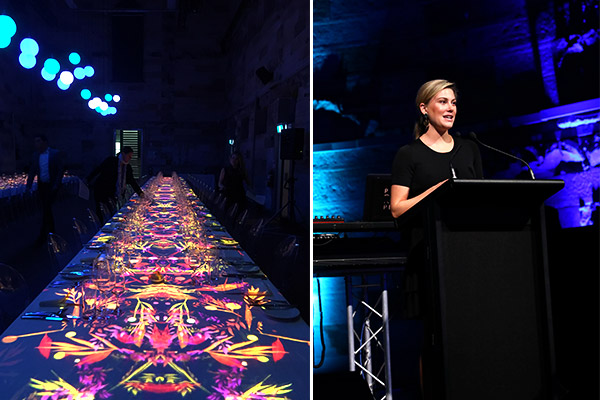 The audience were transported on a culinary and sensory journey like no other. The theatrics included custom table projection mapping themed to each course, complimented with a matching ceiling light show using kinetic lights to create a vibrant and fun experience of the dish. 
Vickianne Lane, Principal, Flick It To Me Solutions, said the evening was a truly unique experience that showcased the creativity of the Encore team. 
"I was taken on a sensory experience – from the food and the way it was introduced, the immersive visuals, the music, was all orchestrated so seamlessly. It was wonderfully creative," she said.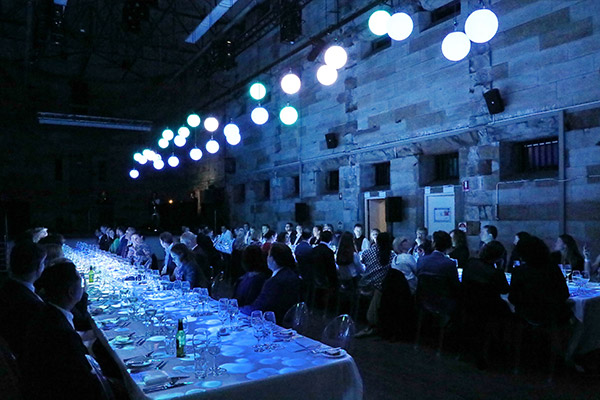 Michael Magafa, National Sales Director at Encore, said the evening was a great way to say thank you to our clients. 
"A great event is when every element comes together to create a memorable experience. Technology doesn't make an evening. How it's applied, does. Engagement and evoking emotion does. Having Justine Schofield curate and present her amazing menu with passion, humour and authenticity simply made it easy for us to create a sensory environment around her wonderfully delectable food. Thank you very much to our guests, the incredible band and to Justine for joining us. And, to our inspirational team for their limitless creativity. We're looking forward to the next #experienceencore."

---
VICTORIA
The Million Dollar Lunch
Venue: Palladium at Crown, Crown Melbourne
The Children's Cancer Foundation 'The Million Dollar
Lunch' soared to incredible new heights this year raising a record $2.5m in
2018 with over 600 guests in attendance at Crown Melbourne.
Encore Event Technologies were responsible for the
technical production as well as conceptualising and pitching to event
organisers the visionary theme 'Galaxies – an out of this world experience'.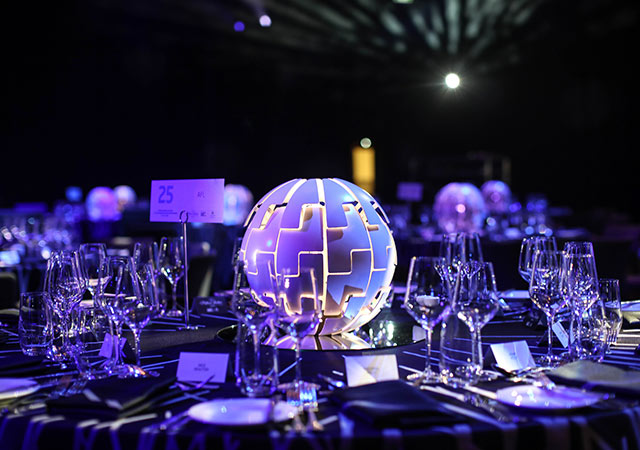 A special pre-function space was designed to get
guests prepared for launch with the interior of a rocket ship created using set
design, styling, lighting and sound effects.
Upon show time, the immersive theatrics continued as
the "rocket ship" doors opened to reveal two tunnels, leading to the Palladium
at Crown. The experience was one of mystery, excitement and discovery thanks to
the use of fog jets, creative lighting, and more sound FX. The VIP guests
emerged from the mist to orbit a glamorous new world as the ultimate reveal of
the beautifully-lit ballroom was unveiled.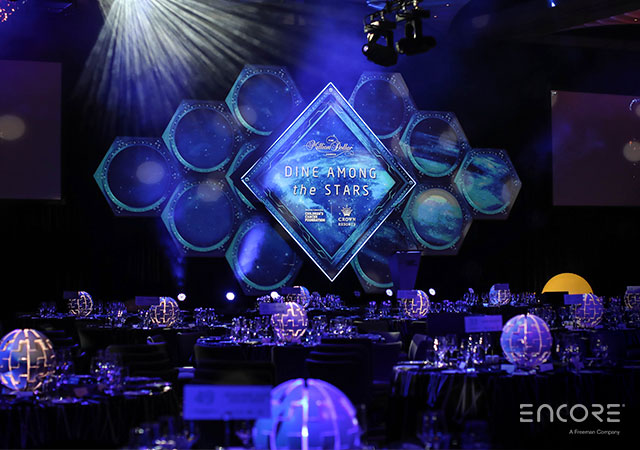 Under a draped ceiling covered in twinkling, starry
lights, returning MCs Edwina Bartholomew and Hamish McLachlan enchanted the
audience and introduced a touching story from beneficiaries of the Children's
Cancer Foundation.
The stage backdrop was designed to emulate the windows
of spaceship – created using 14 hex panels in a diamond shape with 3D content
projected onto it. Throughout the evening guests were treated to entertainment
by the LED dancing troupe and enjoyed a menu specially designed by renowned
Crown chefs to complement the theme.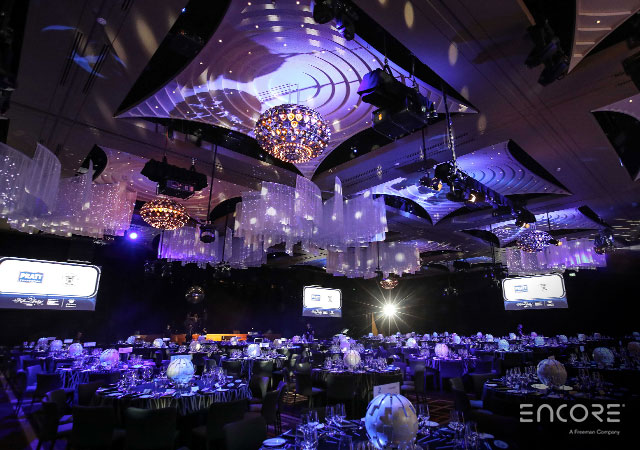 Following the high-end auction, Australian
singer-songwriter and popstar, Samantha Jade, brought the house down with a
stellar performance to cap off the extraordinary occasion.
Mark Holmes, Executive General Manager – Food &
Beverage, Crown Melbourne, spoke about the event's success,
"Encore Event Technologies were once again able to
deliver and ensure the event was a success! As a valued partner they contribute
in terms of every aspect of the event from the initial concept, to design, to
flow and of course the content – once again a memorable event was delivered –
thank you. The entire luncheon was seamless and remained true to our
objectives, while contributing to a very worthy cause."
---
AUSTRALIAN CAPITAL TERRITORY

Canberra Business Chamber Gala
Venue: National Convention Centre Canberra
Encore were tasked with delivering a purple themed gala dinner for this year's annual Canberra Business Chamber Gala Dinner. Hosted at the National Convention Centre Canberra, the on-site team achieved a visually spectacular gala that "took their breath away".
Purple lighting effects, styling and set design elements were key components to creating this look. The hero of the evening was a giant chandelier Encore constructed using hundreds of interlinked Scenic Panels in contrasting designs. When illuminated with purple lighting and gobos, the Scenic Panels' laser cut shapes cast stunning reflections around the venue walls for a truly unique and impactful focal point.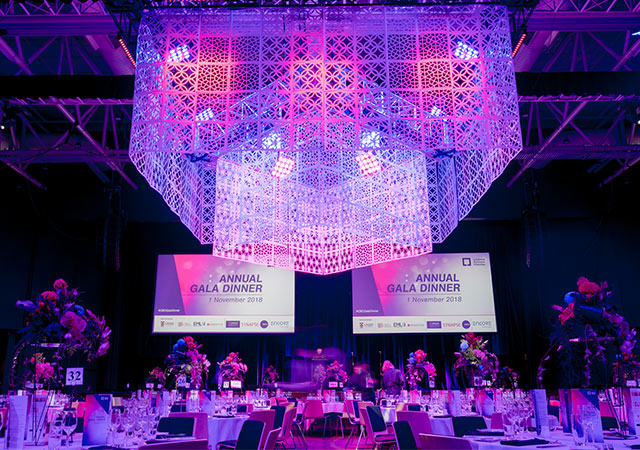 This was the first time the Scenic Panels had been rigged to the ceiling in a multi-layered chandelier formation and the vast ceiling of the National Convention Centre provided the perfect canopy. The purple event theme was carried through the table floral centrepieces, drapery and lighting.
This was the third year that Encore has delivered the event for the Canberra Business Chamber.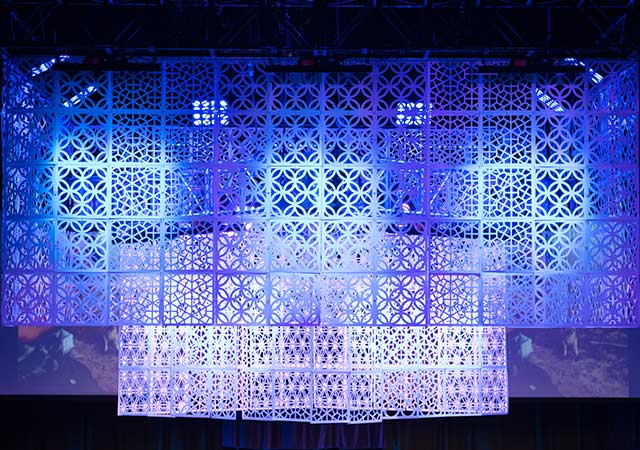 Kate Holland, Event Director commented,
"Just wanted to thank you and the team for a great night last night. You all did a fantastic job and the room looked amazing! We really appreciate your work for the Chamber and your professionalism."
Stuart Buchanan, General Manager of Encore ACT was delighted with the result,
"The team went over and above to deliver on the brief to wow guests. This was the first time we have created a giant chandelier using our beautiful Scenic Panels product. The team continue to come up with unique and beautiful displaying using them in different ways. The clients and guests loved the effect."
---
AUSTRALIAN CAPITAL TERRITORY

20th Family Business Australia Conference
Venue: Various Venues in Alice Springs
The rugged beauty of Australia made the perfect backdrop for this years Family Business Australia (FBA) 20th National Conference. Hosted in Alice Springs from 9-12 September, the conference brought nearly 400 FBA members to the Red Centre to participate in the 4 day event.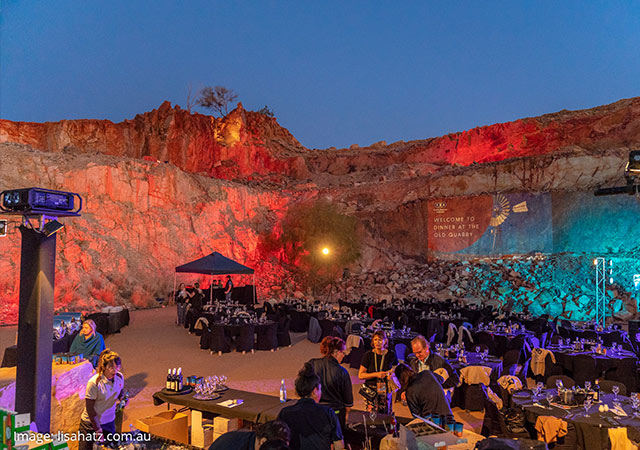 Encore were engaged to produce the events, supplying all audio, lighting and projection for the whole convention, which included a conference held at the Alice Springs Convention Centre, numerous key-note speaker sessions, master classes and workshops that ran simultaneously, plus a number of social events throughout the region.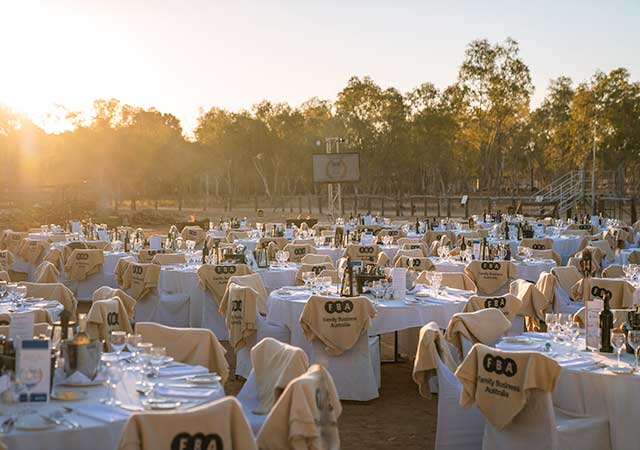 At the first outdoor dinner, at Telegraph Station, Encore constructed a giant custom-made projection screen, allowing award winner images and videos to be projected from 30m away while maintaining perfect visual quality. This delivered an engaging experience and created an emotive sense of pride for the winners. This gave the client's content of award winner video stings and slides an impressively large canvas.
The final evening of the conference ended in style with an event at the Old Quarry. Surrounded by walls of red rock, guests were treated to a performance by Tommy Crowe, who played his didgeridoo on a ledge overlooking the crowd before the live band got delegates dancing under the stars. Encore created an immersive atmosphere for Tommy's performance by dramatically lighting the rock behind him creating a glowing silhouette on the quarry.
The spectacular experience concluded after Tommy's performance with him painting contemporary aboriginal art in his unique style on a large canvas. Encore filmed Tommy painting and projected his work onto the rock wall in real time, which gave the illusion of the painting being created directly onto the cliff.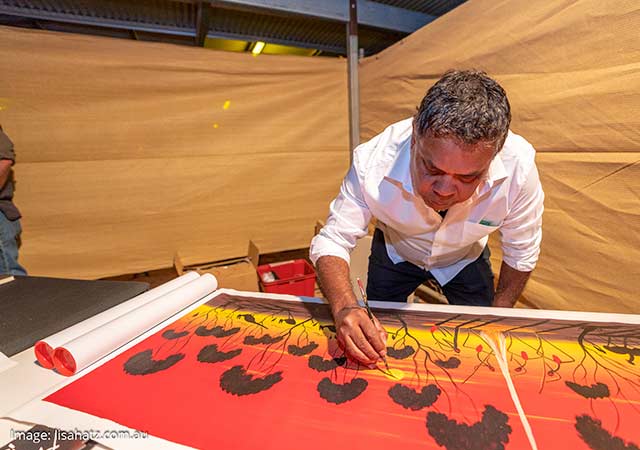 Danielle Ricato, National Events and Sponsorship Manager, Family Business Australia was thrilled with Encore's work.
"I don't even know where to start when talking about this event, it was sheer perfection, from start to finish.
"There were so many moving parts to this event, and I am in awe of the enormous amounts of work that went into making this all look effortless!" said Ms. Ricato.
Brien Keys, Regional General Manager for Encore Event Technologies remarked,
"The Encore team was proud and honoured to go the extra mile, working with such an amazing client in the FBA for an event attended by amazing people. It was truly a privilege to produce the event at some of Central Australia's most spectacular settings. The technical challenges posed by the locations were a great opportunity for our technical teams to showcase their talent."
AUCKLAND

24th International Association of Peacekeeping Training Centres Conference
Venue: SKYCITY Convention Centre Auckland
New Zealand was on show at this year's 24th International Association of Peacekeeping Training Centres Annual Conference. Held over four days 1–4 October at SkyCity Convention Centre, Encore Event Technologies were engaged by the New Zealand Defence Force to deliver a world-class conference for its 300 Defence and Police Force delegates from across 58 countries.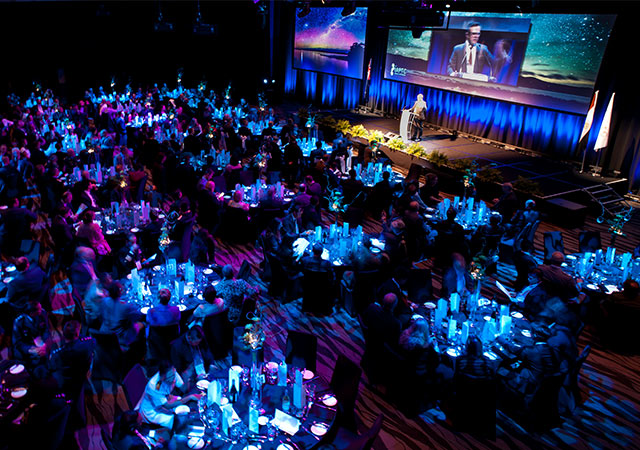 Being its first year hosted in New Zealand, and a very far distance for delegates to travel, it was crucial the event was a success and ran seamlessly.  Encore's winning production solution promised an immersive "Kiwi-ana theme" that celebrated the country's unique flora, fauna and cultural history. In brining this to life, we used a range of services from audio visual, staging and styling to a dedicated event app and speaker services.
Providing unique surprise and delight moments throughout the Welcome function, Gala Dinner and Closing Ceremony were important elements in the brief which our team delivered on beautifully.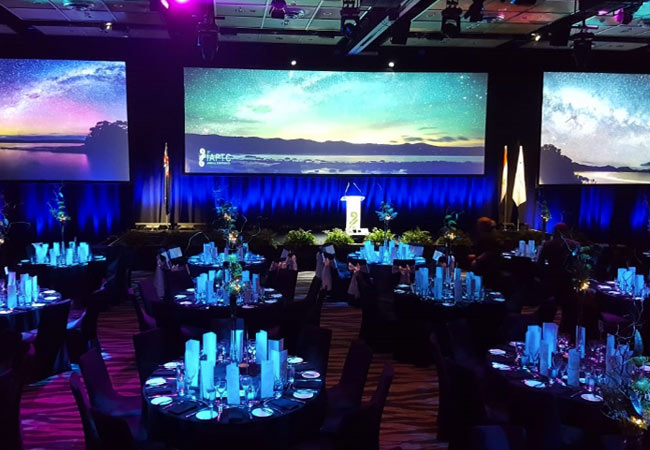 Syd Dewes, Lieutenant Colonel, Lead Planner, New Zealand Defence Force.
"We had delegates representing 58 countries attend and they universally speak of the conference as being a fantastic success.
"The auditorium screen images that changed daily, the accompanying lighting effects, and injection of distinct New Zealand nature sounds, was a fitting artistic display by Encore.
When combined with speaker preparation services, and presentation uploads, we were furnished with an outstanding auditorium production. That performance contributed to our guests rating the conference as world class."
—
Partner with the production specialists for your next event
At Encore, we believe in turning ordinary events into extraordinary experiences. With Australia's largest range of event production solutions at our fingertips, we have the creativity and technology to bring your event vision to life. From conferences, galas and exhibitions to sale incentives, product launches and touring roadshows; we have the network, experience and equipment to deliver your event seamlessly. Get in touch with us today to start discussing the requirements for your 2019 events.