The difference between an ordinary corporate event and an extraordinary event comes down to the details. That's what an Encore Event Technologies' event is all about. We believe a great stage design is essential for a memorable experience – and is a key element in inspiring the people who attend.
What makes a stage come to life?
Through our years of experience, we've come to know the right formula for a great stage design. Here are the elements we're always thinking about.
1. Event Space
Stage design is about working with specific spaces, often within a limited set of possibilities. But our stage designers thrive on limitation, using space in unique and creative ways – to complement event speakers, boost brand messaging, or bring out the best in a performance or presentation. It's often a challenge, but one we'll find a solution for.
The harder the space is the more creative you need to be. We have built stages over pools, used modular stages, curved stages and many more. The possibilities really are endless. A great solution to help envisage the end stage design is to view a graphic render of the desired look. This can help you see how the stage will look in relation to the event space and help foresee any design and technical issues. View some of our render to reality examples.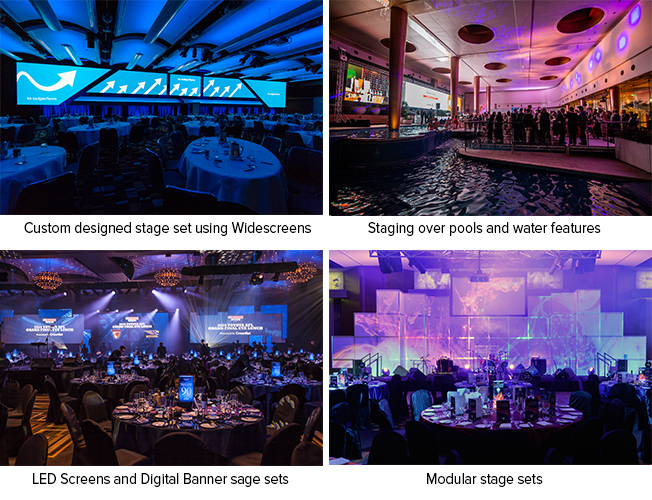 2. Lighting
Make the stage come alive with great lighting. When it's time to make a dramatic change, professional lighting can transform a plain space from a blank canvas into a completely new environment. It can control the mood of a stage, and hype up its energy. And it can create an event atmosphere that's both eye-catching and unforgettable.
3. Backdrops, stage sets and banners
A stage is simply an elevated platform, a blank canvas if you will, that requires design and AV elements to take it from something ordinary to something extraordinary. Corporate events are evolving and event planners are looking for new ways to make their events bigger and better than the last, without breaking the bank. An effective way to do this is investing in interesting stage design. Encore have developed a range a of stage design solutions that add impact to your event.
Event Backdrop
Event Backdrop is a visually striking and flexible branding solution, perfect for all events. It is a high-tech illuminated frame wrapped in a photographic-quality printed nylon. So simple, yet so effective! It's a great way of delivering a message, promoting a product, enhancing the theme of an event or building recognition of a brand.
Event Backdrop's also come in a variety of sizes to cater for small meeting rooms all the way to large ballroom size. This has been our most popular event product this year and can been used for a variety of events.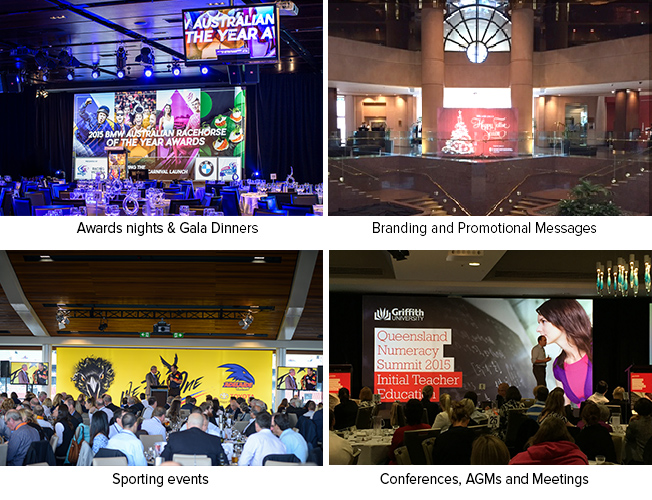 Digital Stage Banners and Widescreens
If you want to add WOW-factor to your next event, a simple solution is to incorporate digital stage banners and widescreens into your stage design. Traditionally, a stage set consists of the elevated platform underneath a large screen. With digital stage banners you can creatively position them across the stage to present your multimedia content in an interesting and engaging way.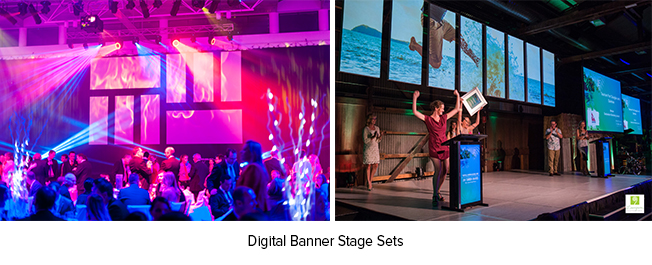 Another option is to use Widescreens – which are by name, very wide digital banners used to project multimedia content onto. These are highly effective when you have a large stage to work with and through the use of blend projection can house highly immersive imagery.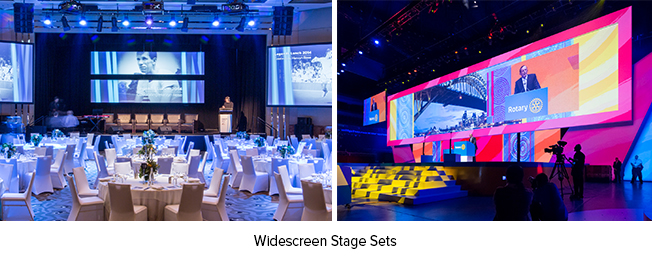 Why not use both! If you're interested in exploring new ways to design your stage, speak to your Encore representative or contact us today.
4. Visuals
We always pay particular attention to the visual elements of your event. Tools like animation and high-impact video are great ways to capture your audience's imagination, while 3D projection mapping can transform dull presentations into stimulating visual journeys. The use of LED walls, projection screens and stage backdrops can also engage your audience and help deliver your message – but also enhance your overall branding and create a lasting impression.
How it all comes together
At Encore, we believe the stage should be as much a feature as what's happening on it. With the proper use of space, lighting and visuals, it can become its own key part of the experience. This transformation helps to boost your event's theme, and it adds another dimension to audience engagement. Ultimately? Great stage design can be the difference between a run-of-the-mill presentation, and an enjoyable real-life experience with a sense of ceremony and lasting messages.
With more than 30 year experience designing amazing stage sets for event of all shapes and sizes, you can count on Encore to create something extraordinary for yours. Whether your event is a conference, product launch, gala dinner or a small C-level presentation – with all eyes on the stage it's important you get its design right. Get in touch with one of our friendly team members to start discussing your event needs and hear our ideas. Send an online enquiry or give us a call today on 1800 209 099.