Learn how CEDA pivoted and boosted attendance by 182%*
Despite lacking face-to-face interaction, online events can significantly increase your attendance and in CEDA (WA)'s case by a staggering 182%*.
Before the COVID19 pandemic, long term client CEDA hosted regular monthly networking events at Pan Pacific Perth for approximately 200 members. March's Cybercrime event was to be the usual pre-COVID production with all speakers and attendees in room, a stage, sponsor branding, lighting and AV. However, faced with a ban on live events, CEDA turned to Encore for a solution to help keep the event running as close to planned for speakers and attendees.
The solution was simple, Encore would set up a studio and use Encore Connect to facilitate an interactive live stream of the seven presenters from the venue at Pan Pacific Perth to the 200 members. With less than 24hrs to go, the event had to go fully online due to increased restrictions. Encore responded swiftly setting up dedicated rehearsals with all speakers to ensure audio and vision was optimised and speakers were confident to use the live streaming platform from the comfort of their own homes.
Encore customised the live stream design to ensure branding and sponsor recognition was achieved via a virtual background for the speakers featuring a watermark of the CEDA logo as well as the event's sponsor, Edith Cowan University's, logo on the live stream webpage.
During the hour-long discussion, attendees were able to ask questions using the Q&A portal which the speakers would access and respond accordingly throughout. Encore recorded 565 viewers attended the online event with an average view rate of 76% (46 minutes). The live streamed event using Encore Connect was such a success, CEDA have launched a series of interactive live stream events to run alongside their face-to-face events once they're allowed to take place again.
"We loved working with Encore to deliver our Cybercrime interactive live stream – It is always such a pleasure working with the Encore team. They are dedicated, knowledgeable and professional. Thank you." Rosie Fares, Events Coordinator, CEDA
Encore's Event Staging Manager responsible for delivering the event at Pan Pacific Perth said,
"As Event Professionals, we are accustomed to things altering last minute and having to revert to plan B and sometimes even plan C, D or E! CEDA's cyber crime event was a perfect example of this exact scenario. The Encore team pulled together to make certain the clients expectations were met in the tight time frame. Our aim is always to relieve the client of the stress that comes with the dynamic nature of events so that they can focus on what they need to do and allow Encore to ensure a seamless delivery."
*Based on average attendance numbers.
---
UX Australia goes from onsite to online in 24 hours
In a matter of weeks, the country's restrictions on gatherings tightened from 500 to 100 to 10, then down to merely 2. Imagine if your event was scheduled to run during the height of these changes with the landscape changing dramatically every 24 hours? This was the reality for Event Manager, Annabelle Robb, from UX Australia.
UX Australia planned to run a multi-day conference highlighting the work of various designers called Design Research at Pan Pacific Melbourne. The initial brief to Encore was very straight forward with approximately 120 attendees in the room and 20 speakers presenting their work onstage as normal with recording of the event for future use.
In the week leading up to the event, the brief seemed to change every day as Encore and UX Australia responded to new travel and gathering restrictions. Within 7 days the event went from a typical in-room event, to a hybrid event with some speakers presenting via live stream to an entirely online event with only the MC and the Event Manager attending in person.
Just 24 hours before the event, Encore helped UX Australia pivot online using Encore Connect which allowed for multiple presenters, live Q&A with two-way communication between the speaker and attendees as well as live captioning provided by CaptionsLive.

"The Encore Team at Pan Pacific Melbourne were incredible at helping to turn our in-person conference to an online event in 24 hrs. The Encore team were incredibly helpful and motivated at getting the job done. All my questions were answered, they filled in the blanks, and were incredibly accommodating. Our 3 AV Techs on the day were also wonderful, incredibly friendly, helpful and resourceful. They fixed problems before they were even problems, and ensured our event ran smoothly, offering additional help & support post-event." Annabelle Robb, Event Manager, UX Australia.
---
How The Playford Adelaide turned 14 days in quarantine into one of the best hotel experiences guests have had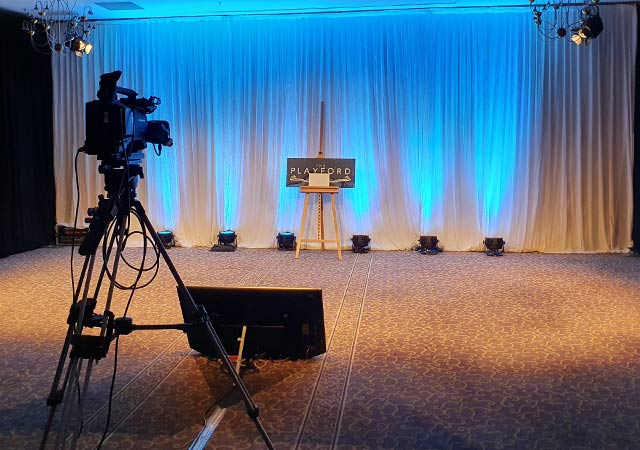 With over 300 returning travellers on their way to mandatory isolation, Encore and hotel staff at The Playford Adelaide MGallery by Sofitel quickly devised a creative solution to keep their guests entertained, fit and relaxed.
What originally started out as a simple idea to host a 1 hour trivia with guests, turned into a full blown TV station with constant content in a matter of hours.
When presented with the trivia, the Encore team took a simple question and went completely lateral with a solution.Within 24 hours, the quiz had evolved into a dedicated TV station that would run daily from 10am until 5pm broadcasting everything from live cooking demonstrations with a Playford chef to yoga, infant sensory sessions and magic shows.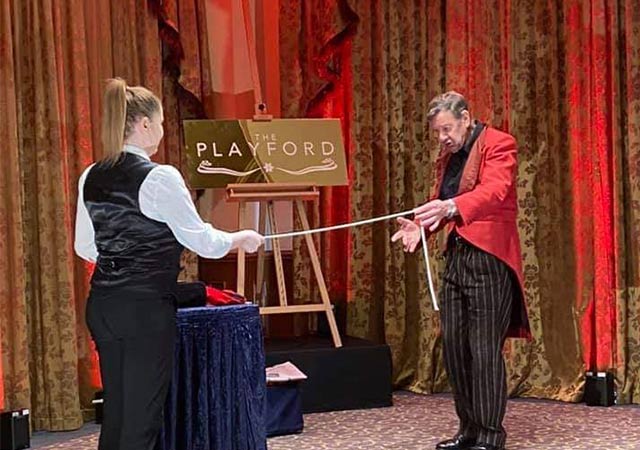 The challenge was how to allow for 2-way communication with all of the guests. The solution was a private Facebook group which every guest was invited to attend. It was a fantastic platform that connected these strangers who were all experiencing the same situation. The group also allowed the hotel to quickly respond and address any guest feedback.
"The concept snowballed from simply wanting to run a quiz, and with great community support we are now able to facilitate physical, intellectual, emotional and social wellbeing activities," said Melanie Leyn, Director of Sales and Marketing at The Playford Adelaide.
One guest even ran a Zumba class from their room, while hotel staff became presenters, comedians and musicians.
"One of the front desk team members became a pseudo travel show presenter filming a tour of Adelaide's iconic places and landmarks," said Leyn.
"Considering some of the guests haven't had a chance to even see the city this was the next best thing."
Behind the scenes, the team at Encore Event Technologies were involved in the streaming of live content, recorded within the hotel. Other segments were pre-recorded and edited on site by Encore.
Encore's in-house Event Staging Manager said,
"It was a great example of the Aussie spirit thriving at the hotel with everyone pitching in – from hotel staff and friends, to local fitness businesses, musicians and more, everyone contributed to the initiative.
"It was through Playford's support that we were able to open new avenues to improve hotel room quarantine for their guests. After a few interstate hotels called to see what we were doing, we feel we have redefined the quarantine guest standard offering, especially from a health and wellbeing point of view. When developing the Playford TV and the associated Facebook group, our team focused on providing content to help people remain engaged with life while in isolation."
It's clear this considered approach to content resonated with guests who posted messages of gratitude on the Facebook group.
"We've been blown away by the messages of appreciation from guests on the Facebook group about their experience at the hotel…It was so gratifying being able to change what was expected to be a negative experience into something positive which they've said they'll cherish forever." said Leyn.
"The team at Playford have turned the most dreadful time into the most fun, peaceful, relaxed quarantine."
"…your kindness and interest in keeping us sane was the most touching and reassuring. You treat us like humans and I am glad to have landed here."
"Thank you for making us feel home, I don't feel like going to mine now."
The 14-day quarantine stay culminated in a live concert in the hotel, which was streamed via Facebook on 4 May with guests checking out the next morning.
Guests gathered on their balconies cheering and dancing to the music, ending their stay on a positive note.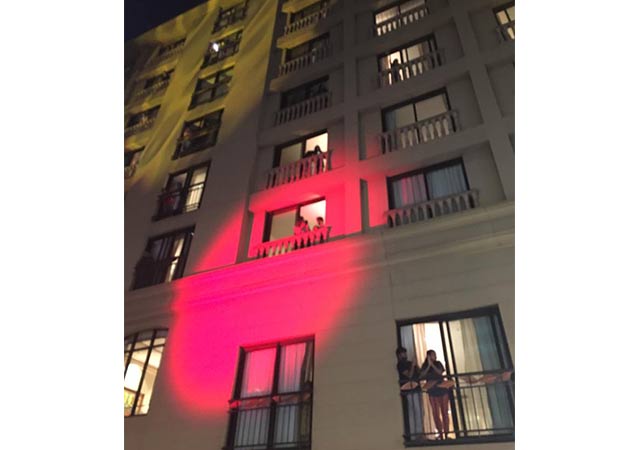 With the TV station a resounding success be sure to stay tuned for more Playford TV.